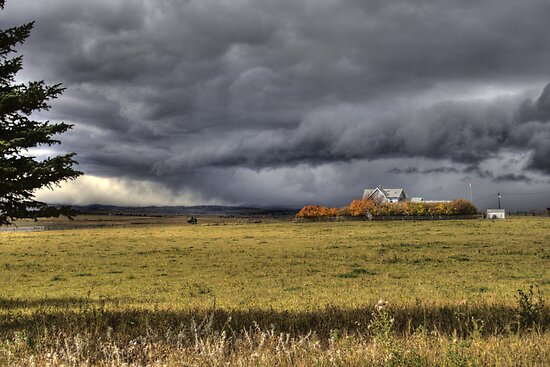 Autumn arrives early on the Canadian prairies. I can feel it on the wind, like the scent of cool foothills air that summons me back to bicycle races through hills of dirt that will one day become new housing developments. For the moment, the mounds of top-soil are perfectly suited to my black-and-yellow BMX. That dirt isn't there for lots, it's there for an aggressive tire tread, spokes spinning as I jump off the precipice and imagine, just for a moment, that summers such as these will never end.
I can see it in the sprawl, department stores rising up from the earth to swallow the farms where cows and prairie dogs once roamed. The sight summons me back to school supply shopping, packages of pencils like minds waiting to be filed down and sharpened, binders as empty as a promise to apply myself. There is an autumn of promise to a city, and a chill rises in my spine when I see the rise of franchise and enterprise. There is nothing nefarious to the changing of a season, but there is something sad.
I can smell it in the air, the warning scent of winter to come like the snows that tumble in September here, like the winter coats stuffed underneath Halloween costumes to make us comically puffy versions of ninjas and ghosts and princesses, like the golden pathways that crunch underfoot, once barren, soon to be a packed down white-and-mud mixture. This ominous, chilly scent is a push, reminding me as I search for a coat that I haven't worn in months why I left this place of May snowstorms and August hail, of frozen Octobers and brown Christmases and springs that never happened, cold giving way to a baking summer heat with no segue in between.
Uncertainty, that was the push, I remember it now. This unpredictable, mutable landscape drove me away like a tempestuous lover. If there is a soul to a place, if there is meaning to be found in that confluence of memory and scent, season and intent, then perhaps I learned the truth and that is why I fled. It's that feeling of sadness when a cloud passes over the sun during a picnic. It's having nowhere to run for shelter when those fierce winds tug at your jacket.
It's an infrequent but familiar scent summoning a picture to mind – a time and a place long gone. Those bicycle summers and toboggan winters are in the realm of memory, and like pencils ground down to stubs, they offer me nothing that I need. Perhaps the landscape has shaped the sprawl and not the other way around – in a land of washed-out colours and oft-bitter weather we shelter ourselves with the trappings of society, the surroundings of civilization, the changeless buildings of material comfort.
Or maybe we see what we want to see, feel what we want to feel. All I know is that the chilly breeze of a late August storm on the prairie no longer smells like Home.